The Doctor Who special, Revolution of the Daleks will air on New Year's Day on BBC One, January 1, 2021 at 6:45 p.m. The special is 71 minutes long.
The composite official synopsis for the special is as follows:
Viewers last saw the thirteenth Doctor at the end of Series 12 where her fate was left hanging in the balance as she was taken by the Judoon and locked away in a high-security alien prison with no hope of escape. Far away, on Earth in Sheffield, her best friends, Yaz, Ryan and Graham have to pick up their lives ten months without her. But it's not easy. Old habits die hard. They soon discover a disturbing plan forming. A plan which involves a Dalek. How can you fight a Dalek without the Doctor? Even with Captain Jack's help, the gang are set to face one of their biggest and most frightening challenges yet…
Jodie Whittaker explained the dynamic of the episode and how time is possibly passing differently for the Doctor in prison.
"…a lot of time has passed, and time plays out for the Doctor in a certain way as well so I think what's interesting is at the start of this, the discoveries and journeys that we all go on aren't Doctor-led. That makes it exciting as well because it's definitely a team effort throughout."
Mandip Gill gave an update on how Yaz is getting on without the Doctor.
"Yaz has a really complex and different connection to the Doctor than the two boys for loads of personal reasons. So I think it would be safe to say that she is struggling without the Doctor but is probably trying that bit more than the boys to solve this. Probably because there was just no conclusion and that's a little bit distressing for her but also she has a connection with the Doctor and with space. She loves being in Sheffield, but there's just something about space, and the Doctor that's just not been fulfilled yet. So there's just more a sense of urgency with Yaz trying to find the Doctor."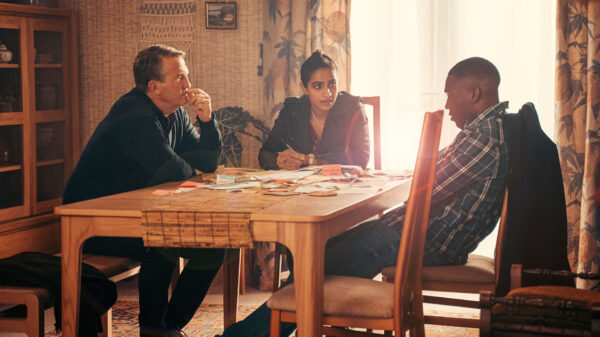 "They are very annoyed," Bradley Walsh said of the Doctor's three companions. "I think they are more annoyed as they feel like they have been abandoned. I don't think they realise what predicament the Doctor has been in and I think they are more annoyed and a bit upset that they have been sort of left alone. I think what is happening as well is that they are becoming slightly more accustomed to their surroundings being back on earth."
Along with John Barrowman returning as as Captain Jack, star of the stage and screen Dame Harriet Walter will make her Doctor Who debut in Revolution of the Daleks as Primie Minister Jo Patterson. Chris Noth will reprise his role as Jack Robertson and Nathan Stewart-Jarrett will play Leo Rugazzi .
John Barrowman spoke of Captain Jack's role in Revolution of the Daleks.

"Captain Jack is a little older. He's still fun. He still very much has a joie de vivre, a lust for life and a passion for saving people and humanity, as does the Doctor. You can expect cheeky lines. You can expect a couple of… shall we say a few sparks between he and somebody. He plays along with to wind that person up. Jack always seems to find somebody who has a heart and Jack then has a lovely chat with… I'll just say someone he finds in team TARDIS who has a very big and open heart."
Barrowman also had this to say on Lorraine on November 30.
"He will meet the thirteenth Doctor. I'm not going to tell you how."
"He will also be part and parcel to saving the universe and the world from the Dalek rev… the invasion."
Dame Harriet Walter appears as the British Prime minister in the trailer for the special.
"[Jack Robertson] was disgraced at the end of the previous episode (Arachnids in the UK) where we met him," Showrunner Chris Chibnall explained. "And the story of his recovery and how he claws his way back into the world is seen in this story."
Chibnall spoke of how Revolution of the Daleks will be the last Doctor Who episode featuring Bradley Walsh and Tosin Cole.
"I can tell you that it's very emotional, I think we've all been in tears watching it. It's a really important part of the mix of the special, where you get lots of thrills, lots of spills, lots of humour, lots of Daleks, and lots of emotion. It's hard, but we don't shy away from what it means for this family to have its final moments together."
He would not reveal whether the plot of the special would leave the door open for either character to return.
"I hope it feels like a good send off for those two characters, whatever happens to them."
Revolution of the Daleks will air on New Year's Day, January 1, 2021 at 6:45 p.m. on BBC One and 8:00 p.m. on BBC America.
You will find more unofficial news about Revolution of the Daleks here.