This weekend it's SDCC 2021 (ie the San Diego Comic-Con) and like last year it's Comic-Con @Home. We pick a few of the scheduled items we're most interested in and tell you how to watch
Much as we'd like to fly to San Diego for the weekend to attend SDCC 2021, that isn't the way the world is (but fingers crossed for 2022). The event is still running, and you can watch panels from the comfort of your own screen. The schedule of events is somewhere between large and huge, but don't worry, we've got your backs!
The schedule for SDCC 2021 and how to watch
If you didn't already click, call up the schedule in a separate tab, or pop back here once you've had a peak. You should notice:
A few items are actually scheduled earlier than the weekend (but most are Fri 23 – Sun 25, some stragglers even on Monday)
There's a lot of choice and too much to watch — some time slots have around a dozen panels
The timetable isn't very friendly to our time zone in the UK / Europe, with most events running between 6 pm and 3 am UK time.
Of course this is the time of streaming and time-slipping. While we might have rooms of interns staying up all night to watch every panel at the CultBox chateau estate, the easiest way to watch is by clicking on videos after the event, perhaps over breakfast. There's also the official YouTube channel, if you want adverts with your insights.
One warning — there's no guarantee as to how long videos will be available, so plan to watch your favourites sooner than later.
What to watch
Friday July 23 (or Saturday breakfast in the UK)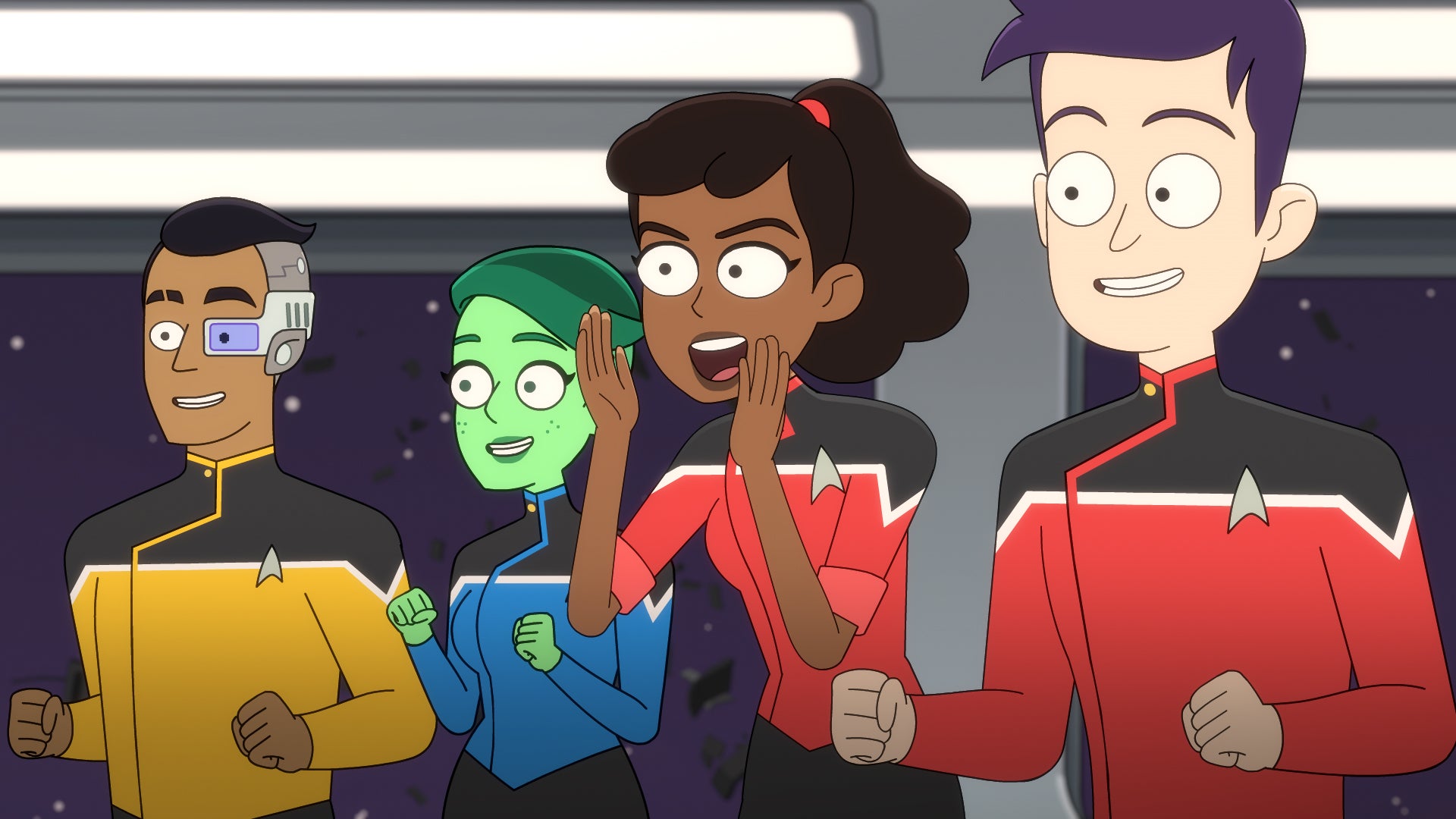 6pm UK time brings the first of many Star Trek panels: Paramount+: Peak Animation with the Star Trek Universe
Programming includes exclusive conversations with the casts and producers of the upcoming kids series Star Trek: Prodigy; plus adult animated comedies Star Trek: Lower Decks, as the scrappy underdogs of the U.S.S. Cerritos return in an exciting second season; new series The Harper House; plus a special segment of Stephen Colbert Presents Tooning Out The News.
9pm UK time and it's The Incredible Impact of Dungeons & Dragons on Culture and Entertainment
Actress and game master Deborah Ann Woll (Daredevil, True Blood, Relics and Rarities), writer Andrew Cosby (Hellboy, Eureka), and Luke Gygax, adventure game author and son of D&D co-creator Gary Gygax as they take you on a tour of how ground-breaking RPG Dungeons & Dragons has had an outsized impact on culture and entertainment. Moderated by Legion M's David Baxter.
9pm UK time also brings some Doctor Who with The Doctor Who Comics Panel
Titan Comics' Doctor Who books are back and better than ever in 2021, with brand-new stories and characters from across the Whoniverse! Forbidden Planet TV's Andrew Sumner goes behind the scenes of the critically-acclaimed series with Eisner Award-nominated writer Jody Houser, artist Roberta Ingranata, colorist Enrica Eren Angiolini, and editor Jake Devine as they discuss the success of their Doctor Who: Missy series.
Saturday July 24 (or Sunday breakfast in the UK)
1 am (from the night before) is Bladerunner: Black Lotus
The Blade Runner franchise is coming to TV with Blade Runner: Black Lotus. Hear from Shinji Aramaki (co-director), Kenji Kamiyama (co-director), Joseph Chou (executive producer), Wes Gleason (voice director), Jessica Henwick (voice of Elle), and Jason DeMarco (co-creator of Toonami and moderator) as they discuss the highly anticipated new series coming to Adult Swim and Crunchyroll later this fall.
Or there's a Bladerunner comics panel at 9pm.
9pm is also time for Fear the Walking Dead
The sixth season of Fear the Walking Dead ended with a bang… literally as Teddy brought about his vision of "The End" when he detonated…
At 10pm you could then watch The Walking Dead: The World Beyond panel!
Sunday July 25 (or Monday breakfast in the UK)
Possibly the biggest day, and far too much to choose from, but do watch out for these…
12am legal experts consider the legalities of bounty-hunting regards The Mandalorian
1am you'll find us watching the Lucifer panel:
Speaking of the devil, Lucifer himself, Tom Ellis will join executive producers, Joe Henderson and Ildy Modrovich, to share inside scoop on what is to be expected from the 6th and final season of Lucifer.
Expect news!
6pm and it's the Doctor Who panel we recently reported on:
Showrunner Chris Chibnall, the Thirteenth Doctor Jodie Whittaker, Mandip Gill, new Doctor Who cast member John Bishop and a very special surprise guest as they share exclusive content from Doctor Who. Moderated by Salon.com's Melanie McFarland. Pre-recorded panel produced by the BBC and BBC AMERICA.
Again expect a write-up.
At 10 pm there's one for writers with a panel on writing psychologically rich characters
Stay online for a Science of Star Wars panel at 11pm, then as midnight strikes, go back through and see what else you've missed!