Jodie Whittaker, Mandip Gill, John Bishop and Doctor Who showrunner Chris Chibnall will participate a one-hour virtual pre-recorded San Diego Comic-Con panel moderated by Melanie McFarland on Sunday, 25 July, 2021.
During this panel a "very special surprise guest" will be introduced and join the panel and there will be "exclusive content from Doctor Who".
Who could the surprise guest be? The most exciting possibility would be the actor/actress who will portray the fourteenth Doctor. This may not happen, considering the panel is likely designed to promote Doctor Who Series 13 and not future series or specials. There are rumours, but no official announcement, regarding Jodie Whittaker's future as the thirteenth Doctor on the programme. The surprise panellist could possibly be a famous guest star. Pirates of the Caribbean star Kevin McNally was spotted filming Doctor Who Series 13 in Liverpool and Cardiff Castle — or maybe all those reported sightings of Catherine Tate in Liverpool during Doctor Who filming are true.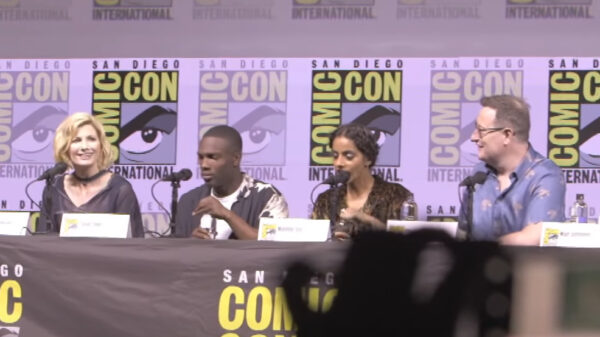 The panel will undoubtedly provide some Doctor Who Series 13 news and the premiere date. Other hoped-for news and media on the fans' wish list is the title of the premiere episode, promotional photos for the series, further details on John Bishop's companion character Dan, news on filming, but most of all — a trailer for the series.
Eight episodes are planned for Doctor Who Series 13 with the filming continuing into July 2021. The clip which introduced John Bishop as companion Dan revealed the series is scheduled to air sometime in 2021, likely late autumn.
The panel will be available on Sunday, 25 July on Comic-Con International's YouTube channel at 10:00am San Diego time, 1:00pm EDT, 6:00pm BST.