The streaming popularity awards will give out their gongs in February. 
Although relatively new, the Global TV Demand Awards mission is to "celebrate the stories and people behind the world's most in-demand tv shows".
Certified by the Guiness Book of Records, the awards use global fan activity (as monitored by Parrot Analytics) to determine the winners, rather than judges or voting committees. That fan activity includes "video consumption (streaming/downloads), social media engagement (hashtags, likes, shares) and research actions (reading about shows, writing about shows, etc".
The awards, now in their fourth year, have twenty categories and only recognise shows which have released new content in 2021 (up to their cut-off point of November 5th). It's worth noting that the whole affair is a bit US-centric, with UK shows appearing as "European Exports". Also, there are two superhero related categories, plus one for Series Debut, allowing the same properties to be nominated multiple times.
Regardless, there are a number of categories that have immediately piqued our interest;
Most In-Demand Comedy Series
Brooklyn Nine-Nine, Cobra Kai, Saturday Night Live. Shameless, Ted Lasso
There's lots of talk about Ted Lasso, but how many people are actually watching… and can it fend off the final season of Brooklyn Nine-Nine? (Which we're still waiting for in the UK).
Most In-Demand European Export
The Crown, A Discovery of Witches, Doctor Who, La Casa De Papel (Money Heist), Sex Education
We love the genre shows, but surely the crown will go to… ahem, The Crown?
Most In Demand Series Debut
The Falcon and the Winter Soldier, Loki, Shadow and Bone, Squid Game, Wandavision
If it was just for most talked about, perhaps Squid Game. Would you bet against the mighty Marvel though?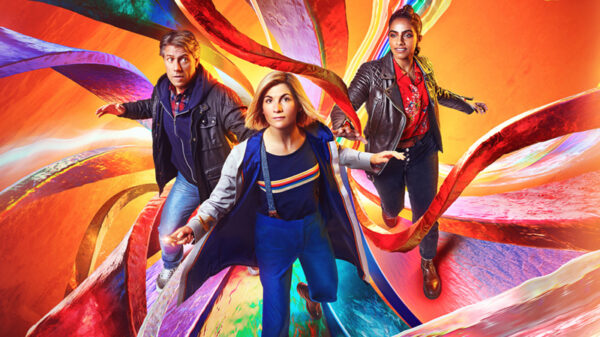 Most In-Demand Sci-Fi and Fantasy
Doctor Who, The Expanse, The Handmaid's Tale, Legacies, The Witcher
It's certainty strange to see Doctor Who in a category with The Handmaid's Tale… but gut instinct says The Witcher here. (Sorry Doctor. hope we're wrong!)
Most In-Demand Superhero Series
The Falcon and the Winter Soldier, The Flash, Loki, Supergirl, Wandavision
Again, would you bet against Marvel? It would be nice to see Supergirl appreciated on her final flight.
Most In-Demand Individuals acting as a Superhero
Chris Evans (Captain America), John Cena (Peacemaker), Sebastian Stan (Winter Soldier), Tom Hiddleston (Loki), Tom Holland (Spiderman)
This can come from film or TV… we've a hunch they want to give an award to Tom Holland!
World Choice: Most In-Demand TV Series
Attack on Titan, La Casa De Papel (Money Heist), Rick and Morty, The Walking Dead, Wandavision
The Japanese comic animation Attack on Titan might surprise us all here, but everyone was talking about Money Heist for a while and The Waking Dead has a devout fanbase.
Most Exceptional Streaming Platform in the World
Prime Video (Amazon), Apple TV+, Disney+, HBO Max, Paramount+
Finally, this award considers platforms with the highest percentage of original series in the top 50 most in-demand original shows. Despite our instinct that it's the global leader, there's a baffling no-show for Netflix; do they make too much content and are spread too thin?
The Global TV Demand Awards – Virtual Festival
Thanks to the ongoing pandemic, the awards will be announced as part of a virtual festival running from the 1st – 3rd February 2022, with various guest speakers.
We'll keep you posted on the results (and keep fingers crossed for our favourites!)