According to a post on Instagram, the thirteenth Doctor's TARDIS interior set at Roath Lock Studios in Cardiff is in the process of being dismantled.
View this post on Instagram
The caption on the post, which contains a hexagonal piece of the TARDIS surround, reads:
"When you know someone working on #drwho and you get asked would you like a piece of the #tardis set as it's being pulled down!!! Yes!!!! YES!! Inner geek gone mad!! Thank you @xemm93 ;)"
Costume assistant Ian Fowler also received a hexagonal piece if the TARDIS interior surround.
This would indicate that all scenes meant to take place on the inside of thirteenth Doctor's TARDIS have already been filmed. It is not known if the thirteenth Doctor's regeneration scene was filmed on this set but it is known that Jodie Whittaker's very last scene was filmed at Roath Lock Studios.
That's a wrap! Jodie Whittaker and Mandip Gill have finished filming 🎬❤️❤️ pic.twitter.com/g8d1XpuKzK

— Doctor Who: Flux (@bbcdoctorwho) October 13, 2021
First introduced in the Series 11 episode The Ghost Monument, the set design by Arwel Wyn Jones has been a constant, luminous presence for three series of Doctor Who.
Jodie Whittaker's last thirteenth Doctor episode, the Doctor Who BBC centenary special, will air in autumn of 2022.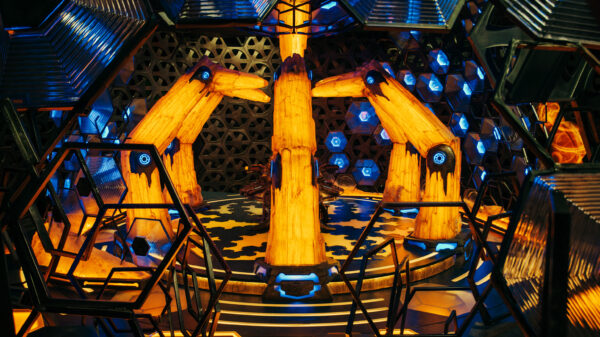 Production will move to the nearby Wolf Studios when new showrunner Russell T Davies and Bad Wolf begin production on a Doctor Who 60th anniversary special, to air in November of 2023, and series beyond.
A new TARDIS interior design will undoubtedly be built at Wolf Studios for the fourteenth Doctor. The fourteenth Doctor actor will be chosen by Davies.