Three Doctor Who specials featuring the thirteenth Doctor are planned for New Year's Day, spring and autumn of 2022.
New Year's Day special Eve of the Daleks
Written by Chris Chibnall
directed by Annetta Laufer.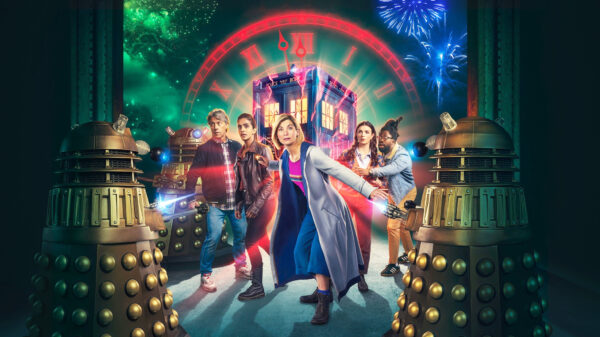 Sarah (Aisling Bea) owns and runs ELF STORAGE and is working at the facility – again, on New Year's Eve. Nick (Adjani Salmon), her only customer, has an odd habit of turning up in the last few minutes of New Year's Eve every year, desperate to put something in storage – much to the annoyance of Sarah. Same old same old. Except this year, their countdown to midnight will be the strangest and deadliest they have ever known. Why is an executioner Dalek targeting these two people, in this place, on this night? Why must they keep living through the same moments again? Trapped in ELF STORAGE and stuck in a terrifying time loop in a fight against Daleks, they find themselves joining forces with the Doctor (Jodie Whittaker), Dan (John Bishop) and Yaz (Mandip Gill) when the Flux-damaged TARDIS arrives at the storage facility. Will the gang manage to avoid extermination and escape in time to see out New Year's Day?
More information about Eve of the Daleks can be founds here.
Spring/Easter Special
Written by Chris Chibnall and Ella Road
Directed by Haolu Wang
Stars Jodi Whittaker and Mandip Gill were spotted!https://t.co/n62g3hlGwJ

— BarryNubNews (@BarryNubNews) June 25, 2021
Casting calls and filming photos indicate that it is a historical story featuring Chinese pirates. One 19th century band of Chinese pirates was famously led by "Pirate Queen" Zheng Yi Sao.
Dismantling the Tardis pic.twitter.com/XGn4x7Qtte

— Alex Green (@lAlex_Greenl) July 15, 2021
The Facebook post for Wildcard Theatrical Productions states that playwright Ella Road "is currently working on the next series of DOCTOR WHO." The post doesn't specify on which episode of Doctor Who but we received previous intel that a playwright named Ella was co-writing the spring special with Chris Chibnall.
More information about the Doctor Who Spring/Easter special can be found here and here.
Doctor Who BBC Centenary Special
Written by Chris Chibnall
Directed by Jamie Magnus Stone
The best pictures from the Cardiff park transformed into a Doctor Who film sethttps://t.co/2x2jf7bxbV pic.twitter.com/ZHLI2rBWSO

— Cardiff Online (@cardiffonline) September 21, 2021
This episode features not only Jodie Whittaker, Mandip Gill and John Bishop but also sees the return of Bradley Walsh as Graham O'Brien.
I thought it was a dream hence my eyes being closed pic.twitter.com/Yf236isd0P

— The Hideout (@hideoutcardiff) September 20, 2021
There is no information on the plot of the centenary special, which celebrates the 100th anniversary of the BBC, other than it is the episode in which Jodie Whittaker's thirteenth Doctor regenerates. Hodge House in Cardiff was set-dressed as UNIT headquarters to film the special. It is rumoured that Jemma Redgrave will reprise her role as UNIT Chief Scientific Officer Kate Stewart, last seen in The Vanquishers. It is also rumoured that Sacha Dhawan will reprise his role as The Master.
More information about the Doctor Who BBC Centenary Special can be found here, here and here.
Jodie Whittaker wrapped her final scene for all three specials at Roath Lock Studios on October 13, 2021. Her final filming was for the Centenary special regeneration scene. Location filming for all three specials wrapped on the following day with some centenary special filming in Cardiff.