Doctor Who will return for a new season this autumn.
This news summary will be updated regularly as more details are revealed, with the latest updates at the top of each section. Rumours and unconfirmed reports will be marked with a *.
> Buy Season 9 on DVD on Amazon.
> Buy Season 9 on Blu-ray on Amazon.
Showrunner: Steven Moffat.
Executive producers: Steven Moffat and Brian Minchin.
Writers: Steven Moffat, Toby Whithouse, Catherine Tregenna, Jamie Mathieson, Peter Harness, Sarah Dollard, Mark Gatiss.
Directors: Daniel O'Hara, Hettie Macdonald, Ed Bazalgette, Daniel Nettheim, Justin Molotnikov, Rachel Talalay.
Main cast: Peter Capaldi as the Doctor and Jenna Coleman as Clara.
Season 9 filming begins: Monday 5 January 2015.
Season 9 broadcast begins: Saturday 19 September 2015.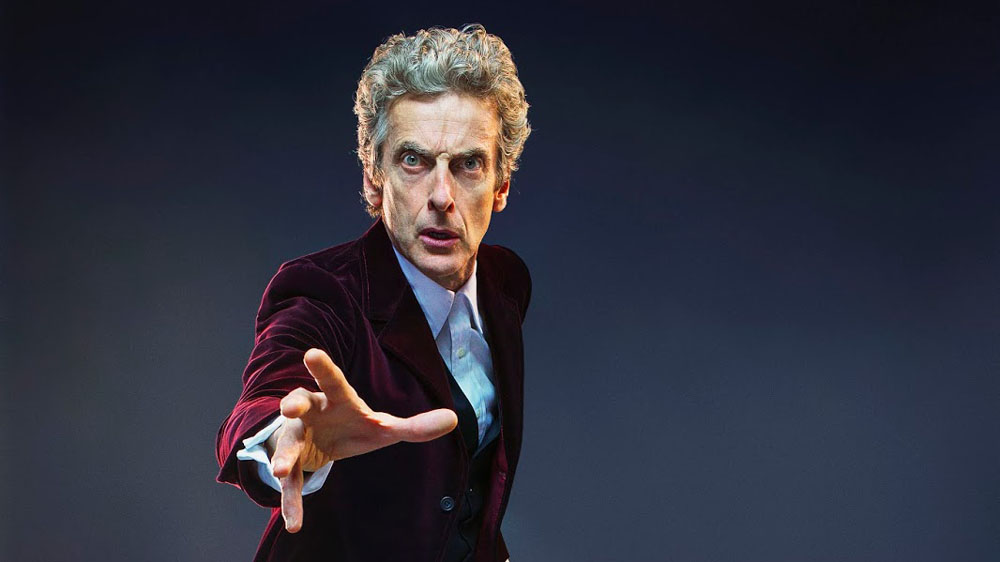 Steven Moffat: "We are going to resolve the matter of his face. He's going to try and figure out where he's seen that face before."
Peter Capaldi: "The cosmos is there for the taking, thrilling, epic and enticing, and [the Doctor's] to play in. But he's almost reckless in his abandon. It's almost like he's running from something, something that if it ever catches him will turn his life upside down."
Jenna Coleman: "[The Doctor and Clara have] got to a place where she's no longer split between her life and Doctor Who life. She kinda throws herself into the TARDIS and her life with the Doctor and joins him in reckless abandon."
Peter Capaldi: "There is an epic sweep to this season and I think the villains and monsters reflect that. Great new ones, brilliant old ones, and some very scary creatures looming in stories with real emotional ambition."
Peter Capaldi: "[The Doctor and Clara] suddenly realized that they are the most fortunate people in all of time and space and are hellbent on adventure."
Brian Minchin: "[Season 9 is] the glory years of Peter Capaldi's Doctor and Clara."
Brian Minchin: "…this year [the Doctor]'s having the time of his life, having dangerous and exciting adventures in time and space. They're having the biggest, most dangerous adventures they've ever had and they're having great fun doing it."
Steven Moffat: "[Peter Capaldi] is on amazing form at the moment. I was looking at some of his first series stuff and thinking 'it's magnificent, but it's nothing compared to what he's doing now'."
Steven Moffat: "As ever, Doctor Who is a combination of complete daft silliness and loads of people getting slaughtered in the early evening. Tonally, [Season 9] very much the same [as Season 8]."
Steven Moffat: "I was looking for the Capaldi moments every episode [in Season 8], saying 'We need a Capaldi moment, that moment where he's not Matt Smith, he's not David Tennant, where he's a dangerous, unpredictable, volatile character'. So now, having done that, and having blasted our new Doctor at them, we can go other places with him [in Season 9]."
Steven Moffat: "We took the Doctor/companion relationship to a place that's just more real in [Season 8], much more damaging and with more consequences. And whoever the companion is [in Season 9], you want to continue that idea."
Peter Capaldi: "…we're starting to have conversations about next year and I'm like 'There are some amazing things coming along there!' – Steven is telling me and I'm like, 'Wow! Yeah!' We've got some great ideas coming for 2015."
Steven Moffat: "[The return of River Song will] now be story-driven. If we've got an idea that she fits perfectly then there's no reason why we can't do it, but I quite liked where we got to at the end of 'The Name of the Doctor', with him saying goodbye to her. So we'll see."
Steven Moffat: "We're not going to do splits [in Season 8], and the same format will repeat exactly [for Season 9] the following year [2015] like that. So it will be the traditional form."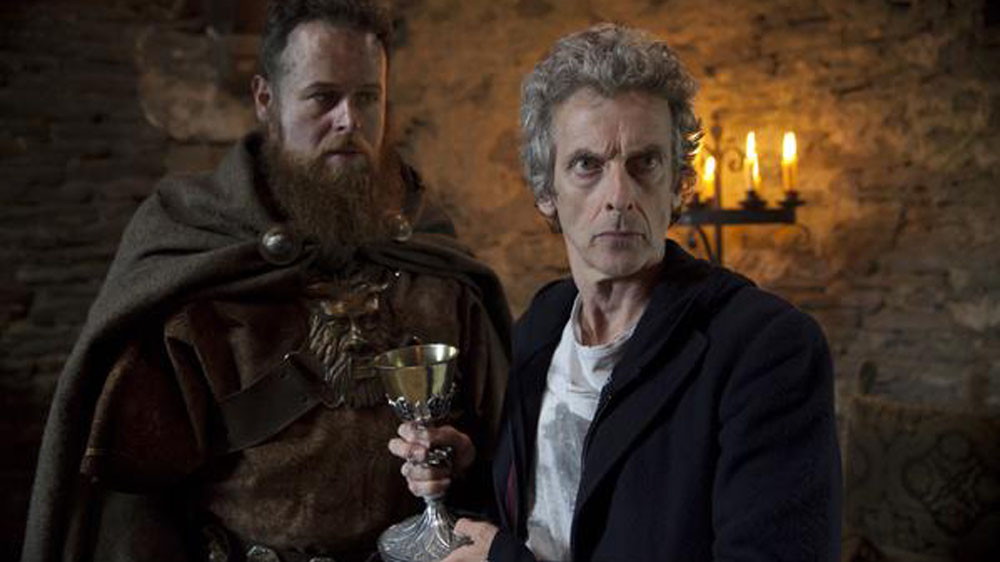 Guest cast: Daniel Hoffmann-Gill as Bors.
Written by Steven Moffat.
Directed by Ed Bazalgette.
Premieres at cinema screenings of 'Dark Water' and 'Death in Heaven' on 15-16 September.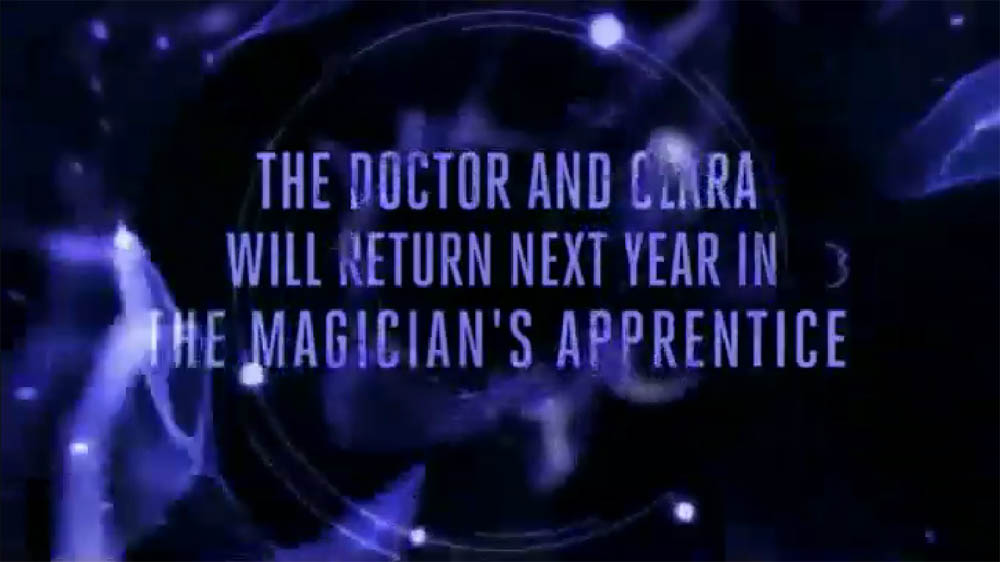 Written by Steven Moffat.
Directed by Hettie Macdonald (Filming block 2).
Guest cast: Michelle Gomez as Missy, Jemma Redgrave as Kate Stewart, Kelly Hunter, Clare Higgins, Jaye Griffiths, Daniel Hoffmann-Gill as Bors, Jami Reid-Quarrell, Aaron Neil as Mr Dunlop, India Ria Amarteifio, Joey Price, Dasharn Anderson as Ryan, Harki Bhambra as Mike Jameson, Demi Papaminas, Jonathon Ojinnaka as a soldier.
Official synopsis: "Where is the Doctor? When the skies of Earth are frozen by a mysterious alien force, Clara needs her friend. But where is the Doctor, and what is he hiding from? As past deeds come back to haunt him, old enemies will come face-to-face, and for the Doctor and Clara survival seems impossible."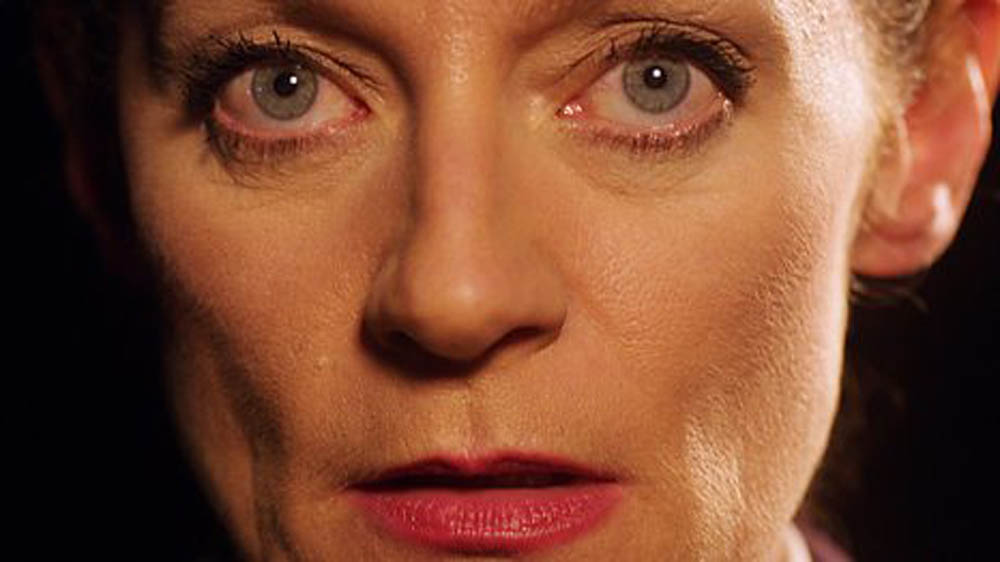 Steven Moffat: "A final message from a dying scientist. A plea from the deadliest corner of time and space. Only one man can answer, but he has gone missing from all of time and space. Where is the Doctor? As the skies of planet Earth stand frozen, Clara Oswald enters into a dangerous alliance. The Doctor is gone from the universe – friends and enemies alike can find him nowhere. When even the Daleks can't track down their ancient foe, and the Doctor's old friend and nemesis, Missy, is forced to ask for help, does it mean that the mad man in the box has truly disappeared? What fear, or what terrible shame, could possibly drive the Doctor into the shadows? The answers are more dreadful than Clara's worst imaginings, and she finds herself embarking on a journey into the Doctor's worst nightmare…"
Steven Moffat: "It features lots of Daleks and this time we mean it! Clara receives a mysterious summons and has to team up with Missy to search for the Doctor in a very, very old place."
Steven Moffat: "Why not start with a blockbuster? Why leave it till the last two weeks? So yes, it's like starting with a finale, and having a big, grand, movie-sized story…"
Peter Capaldi: "[The story features] the Doctor being in a very traditional battlefield, in which he tries to help a victim of war… but it backfires."
Peter Capaldi: "[The story] places the Doctor in a conflict that is central to his being, as well as containning some subtle tributes to the '60s, and truly wonderful guest performances."
Peter Capaldi: "The Doctor [is] about to make a mistake that has cataclysmic repercussions."
Steven Moffat: "[Clara's journey in Season 9] is very pronounced. She continues to complicate and that relationship between the two of them is incredibly strong."
Steven Moffat: "There are certainly surprises, but she's still the same evil Missy she was last time."
Michelle Gomez: "Things have been a little beige since I left Missy behind, so I'm delighted to be putting my lippie back on. I'm positively dying to see the Doctor again!"
Steven Moffat: "Everybody hide – Michelle Gomez as Missy was an instant hit last year, so she's straight back to plague the Doctor and Clara in the series opener. But what brings her back into their lives is the last thing they'd expect."
Daniel Hoffmann-Gill: "I was [playing] a Stone Cold type heel, pretty aggressive."
Jenna Coleman: "Just when Clara was feeling more comfortable in the relationship, it's thrown something totally new up."
Steven Moffat: "As to changing it up with the companion [being a young female from present day Earth] … Wait and see. We absolutely could vary it."
Jenna Coleman: "[The Doctor and Clara] are a bit addicted to each other, and to the dynamic they share. In a way, it's actually quite dangerous now, because she realises there is no going back for her."
Peter Capaldi: "I think [the Doctor] probably will be different again when he comes back [in Season 9] … we're still pushing to find out who this character is – there are more mysteries about him."
Jenna Coleman: "I couldn't walk away with the story being unresolved and there's so much more to do – I think [the Doctor and Clara have] finally just reached a point where they really understand each other!"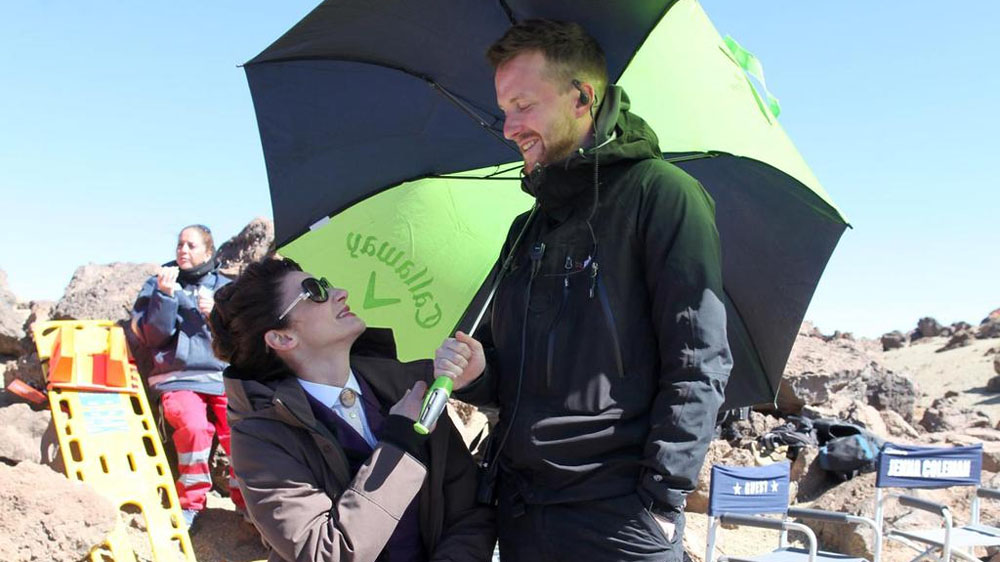 Continued on the next page…